7 Reasons to Hire an OSINT Expert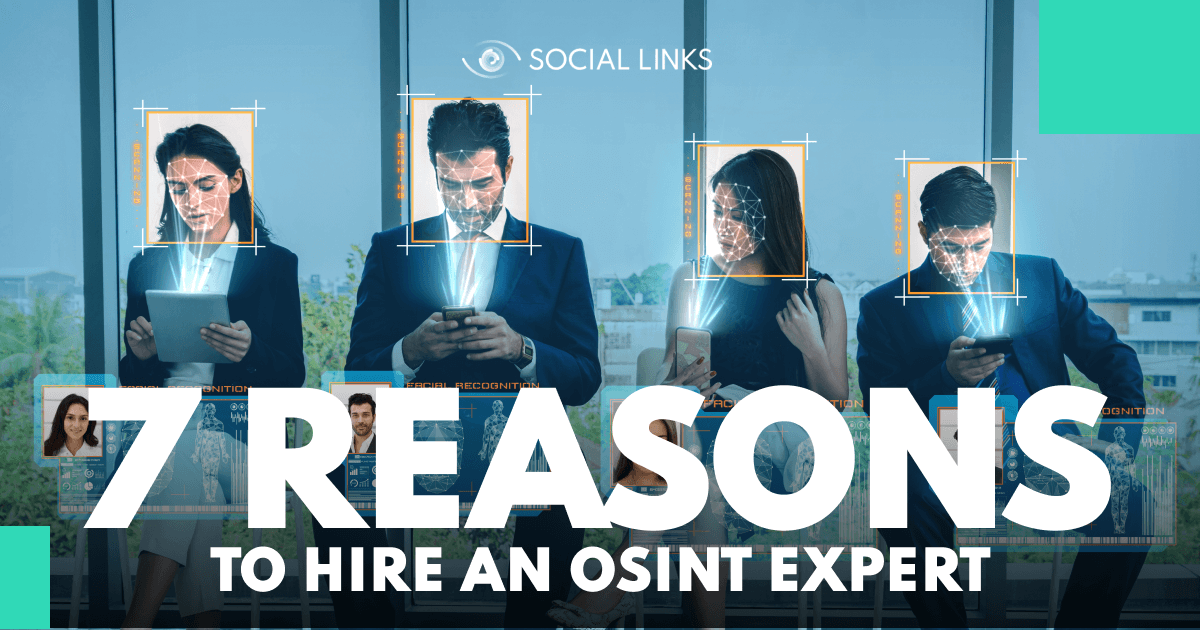 In 2021, the average business experienced a ransomware attack every 11 seconds. With ransomware packages being sold on Dark-Web markets, and cybercriminals pulling out all the stops, firms without a defense mechanism are leaving themselves open to a plethora of breaches. For any organization with legal or security departments, open-source intelligence tools will be needed at some point for effective safeguarding measures.
Even the most watertight IT perimeters aren't exempt from cyber-dangers. A 2021 LinkedIn data breach wound up impacting 700 million users, while in 2019 cyberattack on the First American Financial Corporation had ramifications for over 800 million members. On an even bigger scale, many of us remember the 2020 United States federal government data breach, which had serious knock-on effects for NATO, Microsoft and the European Parliament.
This is where OSINT specialists can make all the difference. Not only can they strengthen security, they can also uncover the necessary market data to give companies a significant edge over the competition. The decision for businesses is not if they should employ an OSINT specialist, but how. Is it better to hire an independent professional, work with an agency, or commit to employing a full-time OSINT expert in-house? Read on for all you need to know.
Who to Hire: Typical OSINT Specialists
In the corporate sphere, OSINT specialists come in many forms, all of which can be crucial to the security and functioning of an organization. They can test and reinforce an organization's existing security, identify the malicious actors behind previous breaches, preempt and prevent future attacks, and ultimately contribute to global security.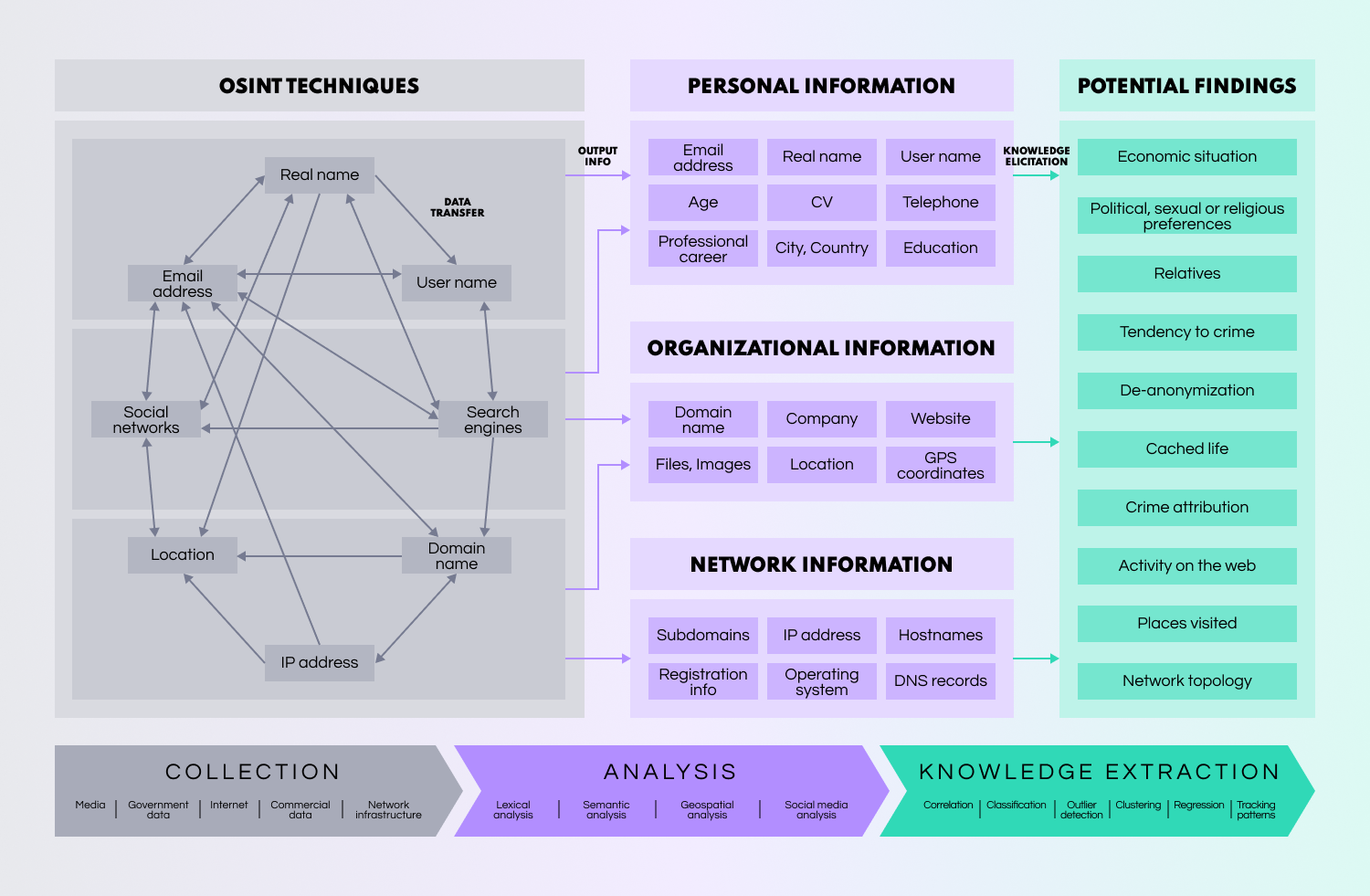 Investigators
When a security breach occurs, or a transaction bears the hallmarks of fraud, these OSINT specialists have the expert ability to root out the threat at its source. Investigators will take ownership of the entire project, outlining its objectives and mapping its trajectory. Among their manifold skills and concerns, such specialists are master decision-makers, who can shrewdly interpret intelligence to inform the direction of the investigation so that meaningful results emerge from the work.
Intelligence Analysts
In intelligence work, analysts do a lot of the heavy lifting. With immense amounts of data needing to be processed, these specialists take up the challenge of collecting, evaluating, and analyzing oceans of open data with a view to producing actionable intelligence. Analysts may focus on specific tasks set by an investigator and also have long-term monitoring projects. Within this work, they will map out networks, establish links between data points, and identify both global and local trends before clearly presenting their findings to both investigators and management.
Cybersecurity Experts
These specialists troubleshoot problems for both businesses and government bodies, where countering online threats is a continual process. Through extracting and organizing all open data surrounding the organization and its personnel, OSINT investigators can build a detailed picture of its cyber perimeter, meaning cyber attacks can be traced to their source, while vulnerabilities can be flagged up and ensured against future threats. Gaining up-to-date insights into threat actors, connections, and patterns, these crucial experts work tirelessly to respond effectively and prevent costly breaches from occurring.
Fraud Investigators
Cyber-fraud has a variety of faces, from phishing and identity scams, through ransomware and malware attacks, to money laundering. Fraud investigators are walking encyclopedias of suspect indicators, who seek connections across multiple sources of open data in order to trace the workings of malicious actors. In cases of internal corporate fraud, an investigator may focus on social media and messengers to uncover individual connections, while laundering cases commonly involve the exploration of blockchains to track illicit funds back to their owners.
Due Diligence Specialists
The business landscape is a real minefield. When striking a deal and signing a contract, companies must be fully aware of who they are doing business with. An oversight in due diligence can not only be financially costly, it can be damaging to a company's reputation. Through running in-depth background checks, OSINT experts in this field can discover whether a person or firm is who they purport to be, and assess the various risks associated with entering into an agreement or sharing sensitive data with them.
Threat Intelligence Analysts
Threat intelligence covers all the methods and processes which identify vulnerabilities and inform how they can be securely fixed. These analysts have the ability to think and operate like cybercriminals, but channel this knowledge to defensive ends. A major part of their role is to conduct penetration tests to determine the resilience of a given IT perimeter, and build a detailed picture of all of its current and potential weaknesses. This information is crucial for preventing breaches and informing reactive measures such as incident response.
Hiring OSINT Specialists: Skills to Look for
Although OSINT experts have been around for a long time (since even before the internet), we're less likely to have come into contact with them compared to the likes of a digital marketer, for instance. This means that employers may be ill-qualified to accurately assess a given candidate since they are looking to hire someone with a different skill set and knowledge base to themselves. On top of this, there are soft skills as well as professional competence to consider when hiring. So, here are a few pointers on what to look for when meeting candidates.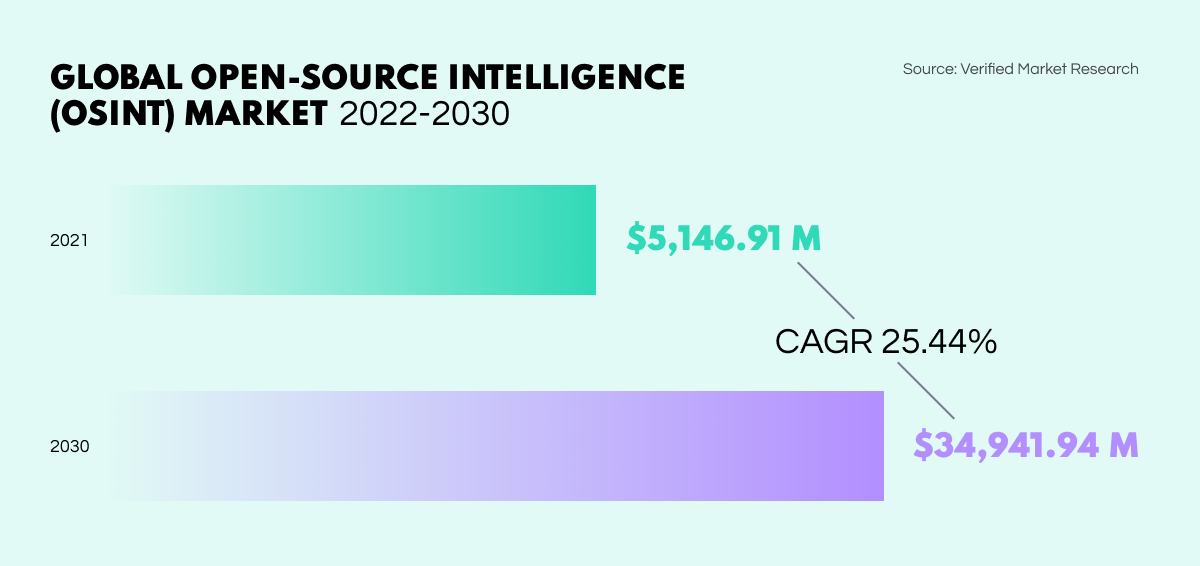 An Analytical Mind
Professionals in the OSINT world should be more than great hunters of information – they need to find its relevance, and meaning in the wider scheme of things. That's why it's important to look for curious minds that are capable of thinking outside the box. Analytical thinking requires a particular mindset. Those truly adept at this skill can identify the right problems, and find the right solutions. In a world with so many permutations, getting to the heart of the matter is far easier said than done.
Research Skills
The best OSINT experts are also natural researchers: curious by nature and quick-thinking. Specialists know the best places to search for information, and are able to identify the most useful data to base their investigations upon. They should also be looking to find technological breakthroughs to make their future work more effective, from researching techniques to the latest software tools.
Problem Solving
OSINT experts are troubleshooters by their very nature. Zeroing in on the necessary information within a realm as vast as the World Wide Web is one test, collating it is another, but furthermore, extracting its value is the key to guarding against repeat security breaches. Next up, you'll often need your OSINT officer to find solutions to both past and present problems, while anticipating future ones. For OSINT specialists, problem-solving should be their lifeblood.
Technological Interest
Naturally, those working on the front line of open-source intelligence need to have a genuine passion for technologies that pervade the sphere. Cybercriminals are forever looking to conjure up fresh ways of dismantling systems and evade detection. Consequently, the tools required to combat this are constantly evolving as the law seeks to meet unlawful challenges head-on. OSINT experts need to have a marked interest in tomorrow's world, and the passion to remain on task when it appears all options have been exhausted.
Teamwork & Communication Skills
Some might subscribe to the stereotype of IT professionals as lone wolves – never happier than when left to their own devices. On the contrary, the best OSINT experts are skilled and effective team players. Even though they may be spending extended periods working alone, they need to have the ability to translate technical information into language that will be comprehensible to different departments, and express results in a format that can be put to various purposes.
Work Ethic
Exploring the profoundest depths of the internet's ocean can be time-consuming and frustrating. It could take hours to weeks of repetitive work to the data point or connection that solves a particular problem. As a result, an OSINT expert needs to demonstrate not only patience diligence but a dogged refusal to give up. Like a boxer entering the 12th round firing on all cylinders, the OSINT professional requires remarkable determination. Furthermore, you need someone who can be trusted to handle sensitive information, and to keep it to themselves.
Why Hire an OSINT Expert: Seven Reasons
Depending on the level of an enterprise, you might be skeptical about the need to invest in a full-time, in-house professional, and prefer to hire on a case-by-case basis. However, by having a paid-up OSINT team member on board, there's a whole realm of benefits that companies of all sizes can take advantage of.
Depending on the level of an enterprise, you might be skeptical about the need to invest in a full-time, in-house professional, and prefer to hire on a case-by-case basis. However, by having a paid-up OSINT team member on board, there's a whole realm of benefits that companies of all sizes can take advantage of.
Cost Efficiency
Just in terms of man-hours, hiring an OSINT expert in-house is far more cost-effective than outsourcing. According to leading job search and company review site Glassdoor, the average salary of an OSINT analyst is approximately $75,000 USD base pay per year. This may seem like a significant outgoing, but if the organization elected to employ freelancers to work for the same time period, the expense could easily be tenfold.

But also, having a full-time professional on the team also means you aren't always paying to fix problems retrospectively. Your specialist will be constantly monitoring your systems and processes for potential problems to solve preemptively. Whatsmore, you save money on induction, since your in-house specialist only needs one settling-in period, while with freelancers, it might be required from project to project.
Saving Time
When data breaches occur, time is of the essence. Every day that passes before the leak is contained ramps up the cost. If a company has to embark on a new outsourcing project every time a security requires response, huge amounts of money can be lost in the meantime. Conversely, having an in-house specialist at hand means effective reactions can take place immediately, minimizing the issue.
Furthermore, with a permanent OSINT specialist on board, organizations are able to streamline a range of internal processes: established communication channels allow all relevant results and data to be forwarded to the appropriate departments in a timely manner and usable format, meaning workflows are more productive.
Internal Expertise
Hiring a dedicated OSINT expert can dramatically increase the level of expertise your staff can boast at large. Experts can pass their knowledge base on to the wider team, improving levels of qualification across the board. And it's not just about sharing a practical knowledge base; OSINT specialists are extremely adept at adapting their skill-set to the specific issue at hand. This capacity of adaptive intelligence can also spread to other personnel, workflows, and departments, increasing the competence levels for the organization as a whole.
Improved Data Security
In a world where cybercriminals are looking to exploit any security vulnerability they can find, conducting all processes internally grants a business an extra-layer of resilience and control. If the organization which you outsource work to suffers a data compromise, this could, by extension, ultimately have ramifications for your company as well. By keeping everything in-house, the company can be much more assured about the condition of the IT perimeter and secure any potential gaps.
Business Development
Successful businesses need to be able to adapt to industry changes, technological advances and the threats of tomorrow. Having an OSINT professional within your ranks will help you stay relevant amid ever-changing times. They'll likely have a grip on the latest technology, a constant eye on the newest threats and be only too delighted to share their solutions with you. Having such a playmaker on board can make a meaningful difference between you and your competitors.
Hiring Advantages
Finding an appropriate high-level specialist can be a complex, time-consuming, and often thankless task. Organizations can - and do - devote a huge amount of resources to this process which can ultimately turn up a blank. OSINT experts have a mastery of social media and other open data which far exceed the capabilities of the average HR department. Harnessing specialist tools and techniques, the in-house analyst can home in on unique professionals, who would normally have slipped beneath the radar.
Transparency
Essential for most companies and all public bodies, transparency - or lack of - can make or break the image of almost any organization. By hiring an internal OSINT specialist, companies can remain assured that their processes are entirely scrutable. This is partly because the uncertainties of outsourcing are avoided, but also because the analyst can continually monitor internal activities with a depth and accuracy that can trump the most thoroughgoing best practices. Then if a question is raised, the organization can be confident about its quality of transparency, and its image can remain squeaky clean.
---
Those who have decided to invest in an in-house OSINT security specialist have already taken an important leap in the right direction. Now the hard work begins! Finding the right professional to take your company forward can be a time-consuming, head-scratching business.
That's why we've created an OSINT for business vacancies portal, for any company interested in hiring an individual or OSINT team. We'll act as the bridge to connect you to the best professionals out there, and help you to stay one step ahead of the latest cyber threats.
Start connecting with OSINT experts today — send your vacancy description to us at osintjobs@sociallinks.io.