Identifying 'Red Flags' in the Insurance Sector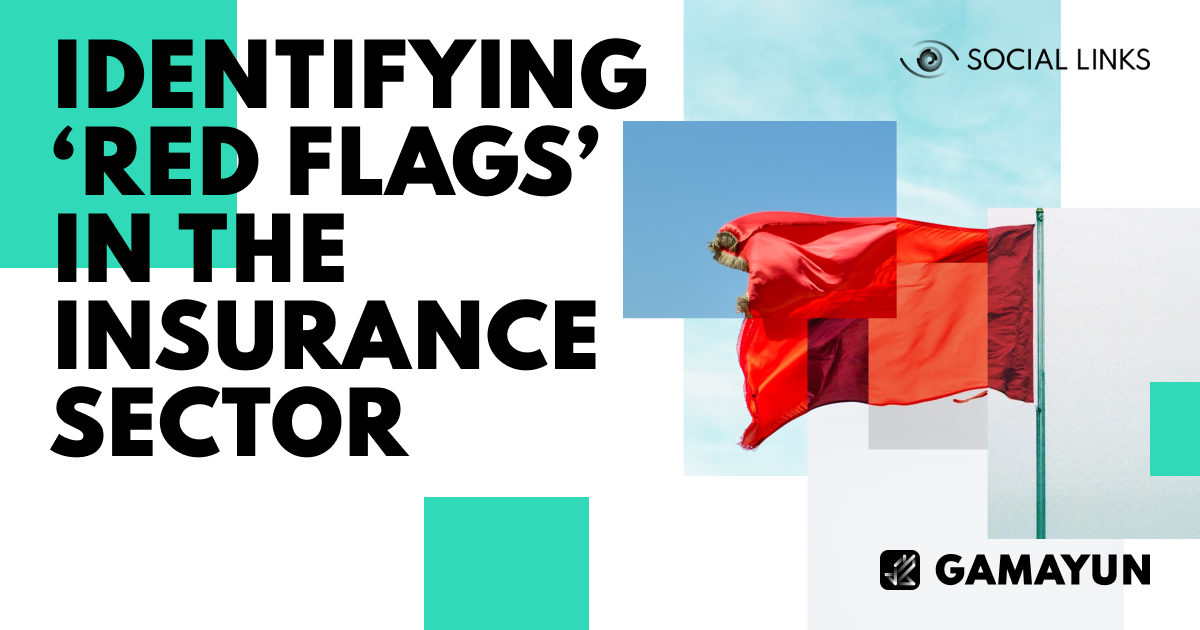 With insurance losses set to increase over the next decade, Social Links' Gamayun can help to mitigate the issue and drastically save time and money for insurance companies.
Dealing with fraudulent claims has been a perennial problem for the insurance sector, and with fraud-related losses predicted to increase in the coming years, companies are becoming increasingly obliged to develop effective strategies to mitigate the costs.
According to projections from the Boston-based modeling firm AIR Worldwide, the insurance sector can confidently expect losses of $106 over the next decade, with a 40% chance that figure could actually exceed $200.
These long-standing problems are precisely what Gamyun addresses. With its ML-based search methods and intuitive interface, the crucial processes of claim verification and policyholder screening can be automated, significantly saving company resources across the sector, in the ongoing challenge to counteract fraud.
'Red Flags'
In-industry, the term 'red flag' denotes an indicator of potential fraud through misrepresentation, and can take many forms but often centre around false or undisclosed information which is used to gain a payout or suchlike.
For instance, in the case of health insurance claims, red flags might be evidence of a subject's engagement in extreme sports, travelling, or smoking; pet ownership may be a red flag in a claim for damages; and more broadly, a subject's connection to suspicious individuals or tendency to change jobs frequently could be red flags in considering future policyholders.
Since it is not an environment where most users actively sensor their output to hide such indicators, social media has become a remarkably rich resource for identifying red flags and gaining the necessary data – or evidence – to make informed decisions.
The burden of traditional approaches
Conducting surveillance for red flags traditionally consists of long, laborious work: an investigator is required to repeatedly carry out manual checks on a given subject over a period of time and across a variety of sources and platforms – a time-consuming process because the workflow is fragmented.
The next hurdle is the complex task of systematizing and analyzing data which enumerates from such unchannelled processes – picture a notice board with scraps of paper pinned all over the place, or directory folders full of disparate file formats, such as screenshots, scans, PDFs, JPEGs, excel and word documents.
This all has to be painstakingly collated – a process which can take days for a single subject – then, finally you are in a position to put together a report and make further use of the information. These are the issues which Gamayun is tailor-made to resolve.
The Gamayun solution
With its automated search methods that span a variety of parameters, Gamayun acts as a centralizing channel for a selection of data gathering and analysis tools, enabling the user to promptly discover a subject across all major social media platforms from minimal input criteria such as a name, email address, phone number, alias, event, location, or photo.
Furthermore, the software can link profiles and establish the strength of connections to sketch out a digital footprint - a function which is useful for flagging up suspicious associates and affiliates. There is also an upcoming monitoring function – currently under beta testing – which the user can set up with different parameters of duration and frequency, and receive notifications when alterations are made to a subject's profile, eliminating the necessity for ongoing manual checks. The software also boasts the significant convenience of a simple feature for grouping data. All findings around a given subject are collected in a folder and can be effortlessly organized using tags, which are used to bookmark and collate the most relevant and telling data, before being easily exported as a compiled report, in a single format, for further analysis and use.
The cumulative benefits that Gamayun can offer investigation teams in the insurance sector is significant: not only are a vast amount of company resources saved through the streamlining of processes, but the convenience brought to the working environment means that subjects can be assessed more accurately with readily available evidence, resulting in fewer unfair payouts.
The Enterprise tariff
The Gamayun Enterprise tariff delivers the full product functionality along with customizable options and a variety of applications across different departments. If you are interested in seeing how the product can benefit you and your team, please fill out our contact form and a manager will promptly get in touch, recommending the best possible package to suit your requirements.