OSINT in the Insurance Sector: How Gamayun Can Prevent the Costs of Fraudulent Claims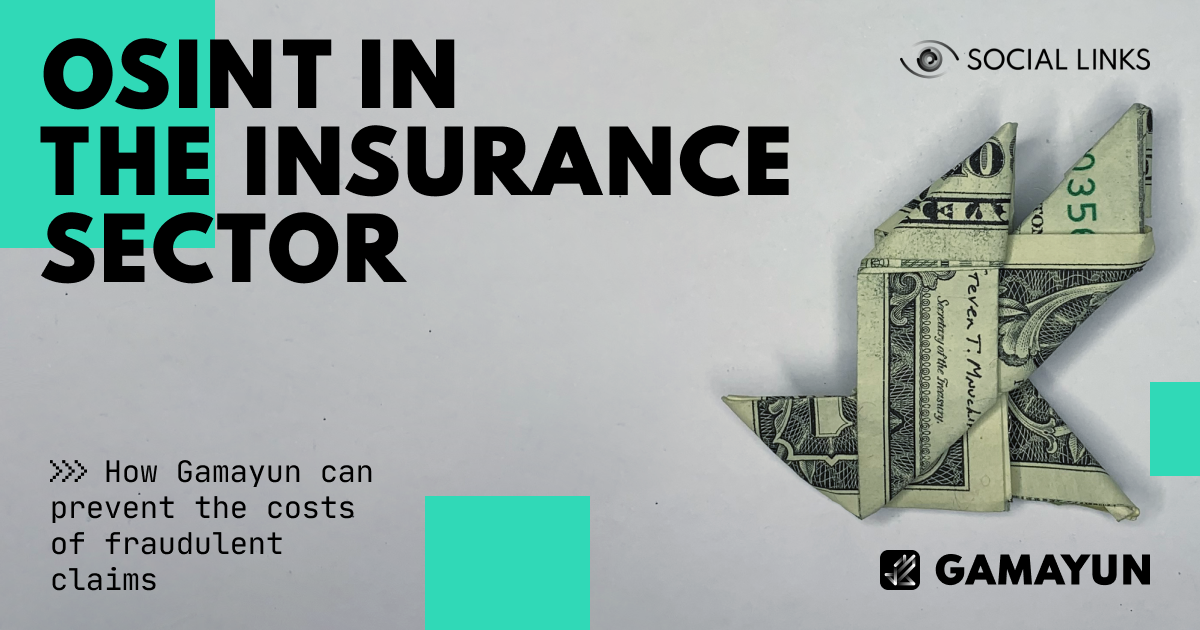 With insurance fraud on the rise, companies in the sector are increasingly being forced to find new technologies and tools to combat false or inflated claims. Social Links' new solution Gamayun allows insurance companies to drastically speed up investigations, counteract financial crimes, and save resources.
Fraud in the insurance industry is so commonplace that the companies' battle to protect themselves against false claims is relentless. A fraudulent claim is essentially an instance of deliberately providing an insurance company with untruthful, incomplete, or misleading information, on which the company is obliged to pay out in accordance with the insurance policy. Insurance fraud can be committed by different categories: ordinary people who want to cover their franchise and not lose extra money or by groups of frauds committing large-scale crimes against insurance companies for personal gain.
The losses insurance companies incur through investigating and compensating fraudsters are colossal, and firms are consequently being forced to raise insurance rates for all clients and devote a vast amount of time to the verification of claims, resulting in significant losses across the entire industry. According to the FBI, the total cost of non-health insurance fraud is estimated to be more than $40 billion per year. Furthermore, the COVID-19 pandemic has triggered new and sophisticated online fraud practices and significantly boosted the amount of fraudulent claims in the insurance industry over the past year.
Detected everywhere: the digital footprint
With the growth of social media users, the spread of the Internet, and the proliferation of mobile devices, digital footprints represent increasingly accurate pictures of individuals. While digital footprints usually encompass a variety of online activity such as posts on social networks, likes, comments, stories, geolocation points, etc., even an inactive social media presence, such as the mere existence of a profile, can prove connections between people and becomes reliable evidence in the fight against fraud. Insurance companies are increasingly pressured to rely on technologies and predictive models to mitigate the cost of fraud and automate the checking processes so that the verification of claims is streamlined and less of a drain of company resources. To carry out such work effectively, data extraction from social media and other open sources is an indispensable part of the picture.
Background check: the most common Gamayun case
With Social Links' new SaaS software Gamayun-beta, insurance companies can greatly facilitate, speed up and increase the efficiency of digital investigations. The product allows users to quickly discover a subject's implicit connections, even if there is no information on his profile, since the user interacts with other accounts by merely scrolling through feeds or interacting via direct messages. For example, insurance department specialists need to conduct a background check if a given person has traveled to countries with low health standards or is an amateur of extreme sports in processing travel-related claims; health insurance claims require knowledge about personal habits such as smoking status for validation; and tenuous personal connections may be essential for indicating collusion in cases of theft.
A real Gamayun case
To illustrate Gamayun's application, we would like to share an authentic example of product use conducted by a former police officer and experienced Maltego user. Working for an insurance company as an Investigative Analyst, his primary task is to screen lists of people, from single individuals to groups of up to thirty, and establish whether they are interlinked. The objective behind unearthing these connections is to ascertain the subject's character and assess whether or not they are trustworthy. For example, if a connection is found linking the subject to a known criminal or discredited organization, or if they simply display suspicious online behaviour, they can be marked as high-probability fraudsters and a focus for a more thorough claim investigation.
Gamayun is tailor-made for such work. With its automated methods of data extraction and processing, the analyst can work through significantly more information to a greater level of detail, finding in seconds connections which would have otherwise taken too long or else may not have been found at all. In light of the information retrieved from internet repositories, the insurance company could then make a more informed decision regarding whether to pay out or not. On average, the insurance company reduced its number of payouts by a factor of three.
Product features: the easy way to conduct searches and generate reports
Gamayun capabilities allow the user to develop an expansive case from a mere fragment of input data such as a name or surname, email address, alias, geolocation, or photo. By using this data as a starting point for a case, Gamayun can automatically search across major social media platforms, including Facebook, Instagram, Twitter, and LinkedIn. Once the results are generated, the user can visualize the information with the 'Show overview' or 'Show on a map' functions.
Furthermore, by viewing user profiles, you can easily unpack additional information such as account ID, alias, number of friends, followees, and followers, or map the subject's connections to other profiles. The 'Explore connections' function enables the user to instantly extract more information about the subject's closest contacts, while the connection score of the linked profiles means that the most relevant results can be easily identified. Also, managing case searches with the 'Save to tags' function helps to navigate your way through case details and organize your findings, then once the case has been concluded, the user can simply check the boxes under 'Saved tags' and export them as a PDF report. Additionally, before exporting, a number of changes can be applied to the report in Preview mode including the ability to add notes where necessary, or reorganize the profiles to be included.
A solution to fit insurance company needs
The use of Gamayun in the insurance sector can solve the industry's most common difficulties by effortlessly screening false or inflated claims. The product allows users to easily carry out investigations without any special education or training, simplifying processes and streamlining collaborative work. These benefits speed up workflow and case turnover immeasurably, saving the company vast amounts of time, money, and other resources while identifying significantly more fraudulent claims and paying out on a much more infrequent basis.
Furthermore, the findings generated from a Gamayun case can be exported and included in the workflow of another Social Links products such as SL Pro for Maltego or IBM i2 Analyst's Notebook. This expands the scope of investigative possibilities without expanding the main license and the expansion of the staff of professional investigators. If you don't already have a subscription to one of our other products, it is an option you can consider to gain a comprehensive OSINT investigation solution for the organization on a very affordable budget.
Gamayun-beta is currently available in three tariff plans: Light, Base, and Enterprise. Explore the Enterprise version to experience the benefits of customizing and automating your investigations for frequent research and collaborative work. For more information or to start a free trial, visit the Social Links Gamayun product page, and if you have any other queries, feel free to contact us via contact form below.