OSINT Landscape 2023 by Social Links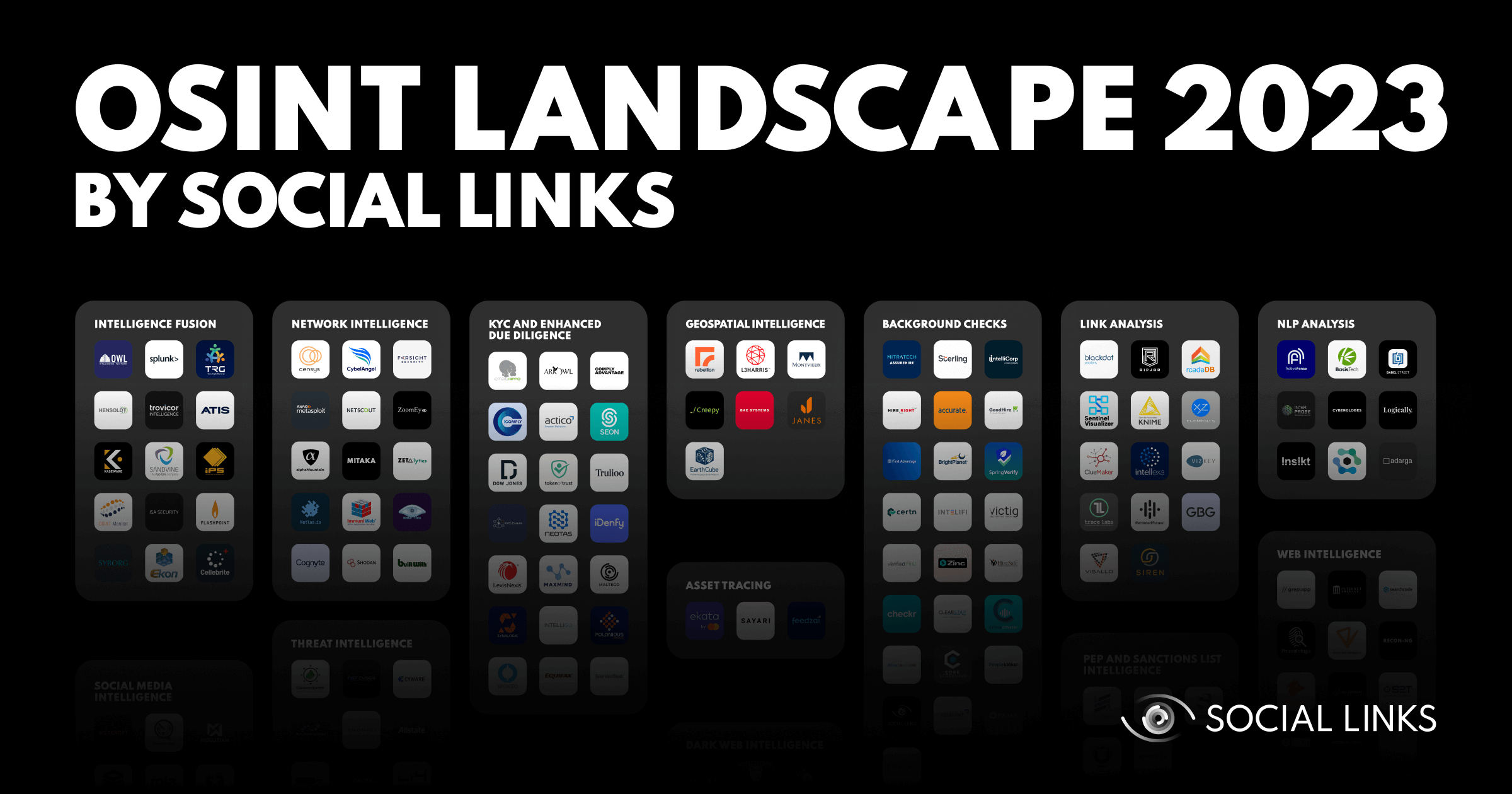 Decisions, decisions. The global OSINT market is growing at an extraordinary pace, with new technologies continually emerging and ever more products appearing. While this is good news for the industry, it can make choosing the best-suited solution a real challenge. So, we've created a super-accessible guide to help everyone navigate the open-source intelligence sphere in 2023!
Welcome to our new vision of the many systems and tools that make up today's OSINT landscape, complete with our commentary on the role of this crucial discipline in global security. Covering 200 solutions, our easy-reference one-pager represents a cross-section of the OSINT tech ecosystem, from simple background checking tools to sophisticated multi-purpose intelligence fusion platforms.
Get our OSINT landscape in high resolution! Simply follow the link below and fill out the short form to claim your free download. If you want further details on any of the tools included, just click on the relevant icon, and you'll be redirected to the corresponding website.
💡
Disclaimer: This guide is not intended to be exhaustive and certainly does not account for all products on the market. Instead, we have made a selection that gives a decent overall description of the current OSINT sphere. While we have formed our picture with companies that excel in the given area, the versatile application of open-source technologies means that one product may appear in various domains.
The Current OSINT Climate
2022 was a big year for the open-source intelligence world. While predictions were markedly optimistic, they ended up being justified by reality. The market showed tremendous growth, with even the world's largest intelligence agencies increasingly relying on open data. In fact, OSINT now accounts for 80% of the intelligence generated by the U.S. DIA, for instance.
It's an extraordinary trend to be sure, and one that has led some research agencies to reevaluate the expansion rate in line with an even more positive outlook. For example, Future Market Insights now estimates a 25% CAGR with the OSINT sector comprising $58.21B by 2033. That's not bad going, considering it was $2.05B in 2018.
Meanwhile, AI technologies progress at dizzying speeds, streamlining OSINT systems through automation and delivering unprecedented levels of intelligence depth while cutting down manual work for analysts. Such technological breakthroughs combined with a current climate of high global insecurity make OSINT a must-have methodology for security professionals.
OSINT Landscape Categories
The OSINT sphere is vast. So, to create a picture of the entire market, we've broken it down into various categories.
Intelligence Fusion. This is a capability that comes with powerful and advanced systems. Fusion intelligence means that analysts can collect, correlate, visualize, and analyze massive volumes of data through a whole range of intelligence methods—SOCMINT, GEOINT, DARKWEBINT, etc.—all using a single platform.
Link Analysis. A form of data processing whereby interconnections between the inputted data points can be visualized and organized in a user-friendly way, usually in the form of a structured graph consisting of points and vertices.
Blockchain Analysis. The process of inspecting, identifying, clustering, modeling, and visualizing blockchain data. Such analysis aims to derive and correlate all kinds of useful information concerning different actors transacting in cryptocurrency.
Asset Tracing. This covers the various processes and techniques investigators use to locate assets. These may have been legitimately obtained, misappropriated, or stolen. In the first case, asset identification may be needed to assist in litigation; in the latter two, it may embody evidence for further appeal to financial institutions.
Threat Intelligence. The pooling of knowledge, skills, and experience-based information to assess both online and offline threats and identify the actors behind them. Threat intelligence is used to help safeguard systems against potential cyber-attacks and minimize the damage if a breach occurs.
Social Media Intelligence (SOCMINT). Techniques and technologies allow users to monitor—and extract data from—social media platforms, such as TikTok, Twitter, LinkedIn, etc.
Background Checks. A process by which a person or company verifies that an individual is who they claim to be. Such checks usually encompass the subject's criminal record, education, employment history, and other biographical data.
Web Intelligence. A combination of data extraction and digital analytics to examine how website visitors view and interact with a site's pages and features.
Dark Web Intelligence. The processing and analysis of data obtained from sources on the Dark Web, a section of the internet that traditional search engines do not index, and requires specific browsers like TOR to access. It involves monitoring forums, paste sites, marketplaces, and other darknet communities.
Messenger Intelligence. The analysis of open data from modern messenger systems such as Telegram or Skype. Common sources include news and other public channels.
Media Data Intelligence. The extraction and analysis of multi-format media, including text, audio, and video that is distributed throughout the internet.
Geospatial Intelligence. Surveying and assessing human activity and geographical location through extracting and analyzing data relating to a particular place. This often includes photo imagery and GPS coordinates.
NLP Analysis. The application of natural language processing technologies such as named entity recognition (NER) methods to automatically structure, analyze, and derive insights from massive volumes of textual data. This could be in the form of documents, reports, news articles, and all manner of posts and comments left on social media platforms.
Data Leak Detection. The monitoring of the Surface and Dark Web to flag up the unauthorized publication or sale of sensitive data relating to either an organization or individual. This work feeds into the process of conducting effective incident response—containing leaks to minimize the damage.
Network Intelligence. Deriving and analyzing data from the hardware network systems connected to the internet, such as servers, computers, mobile and IoT devices, etc, as well as their relative points, means, and configurations of connection and interoperation. This also considers where systems are situated, how they are controlled within a network, and what defines their system administration.
PEP and Sanctions List Intelligence. A verification process utilizing various national, regional, and global sanctions as well as politically exposed persons databases. The objective is to determine whether a person or organization of interest is subject to any sanctions or a special compliance regime.
KYC and Enhanced Due Diligence. A set of techniques for establishing a highly accurate picture of the person or organization of interest. Such research often looks at their assets, past business dealings, social and financial ties, ESG compliance, shadow interests, and undesirable affiliations.
---
In our new landscape, we set out various solutions that help workflows in each category. Clearly laid out with embedded links for every product, finding your way around the OSINT market has never been easier!