[Free Webinar] Countering Organized Crime with OSINT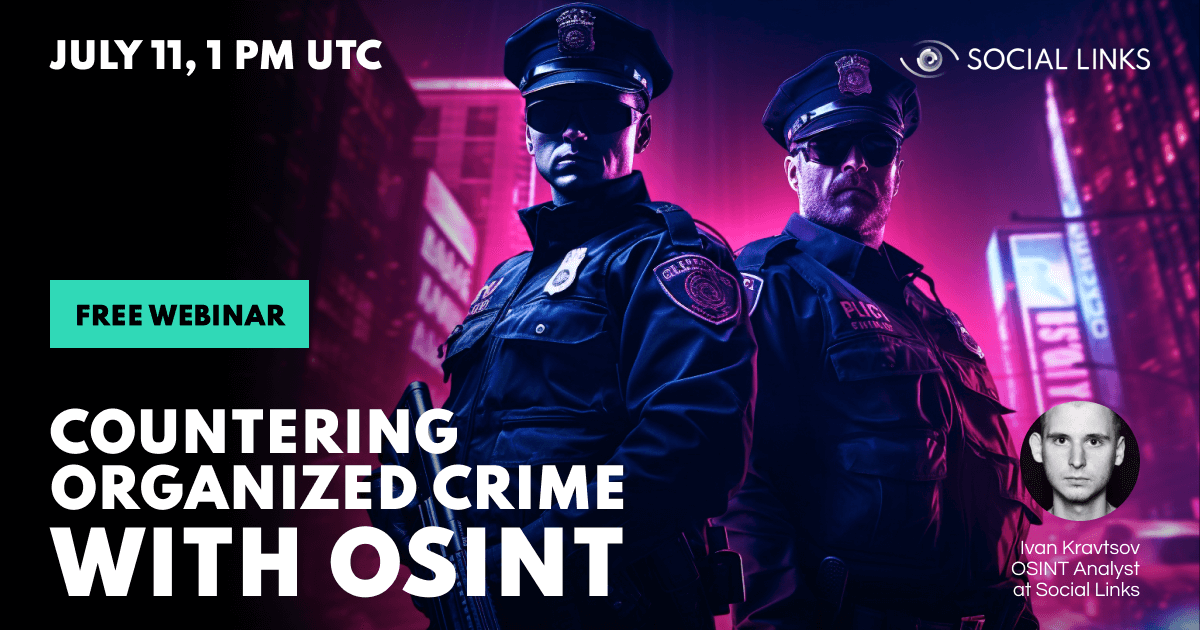 Criminal organizations rely on social media and messengers just as legitimate ones do. These communication platforms allow different threat groups to coordinate various operations. Yet these activities also leave traces that the OSINT analyst can use to construct a detailed picture of the network and its members. This gives investigations the scope and depth needed to inform effective countermeasures.
Join us on Tuesday, July 11, at 1pm UTC for the free webinar Countering Organized Crime with OSINT. In this event, we'll be taking a practical look at how LEAs and intelligence bureaus can harness SL Professional to map out entire criminal networks to see links between its members and deanonymize the key players.
Note: the event is absolutely free. And what's more, we'll send you a recording soon after the webinar.
Agenda
This free event will be hosted by one of our most experienced specialists, Ivan Kravtsov. Looking at authentic case studies and real-world examples, Ivan will demonstrate how OSINT tools and techniques can be used to identify, trace, and monitor the activities of threat groups and their members.
The webinar will have five sections:
Introduction. We'll open with a brief overview of how OSINT is used to investigate criminal organizations and will say a few words about the features and capabilities of SL Professional.
Understanding the threat. Here, we'll go into the makeup of modern threat groups and their members, discussing their activities, tactics, and social impact.
Uncovering links between criminals. A demonstration of how specific features of SL Professional can significantly help analysts identify connections between the criminal actors that comprise the group.
Deanonymizing suspect accounts. In this part, we'll explain the concept of deanonymization and its role in OSINT investigations and present a range of strategies and methods for carrying it out effectively in an investigation.
Q&A. Your chance to ask our specialist any questions about SL Professional or OSINT in general.