[Free Webinar] OSINT and Next-Level Cybersecurity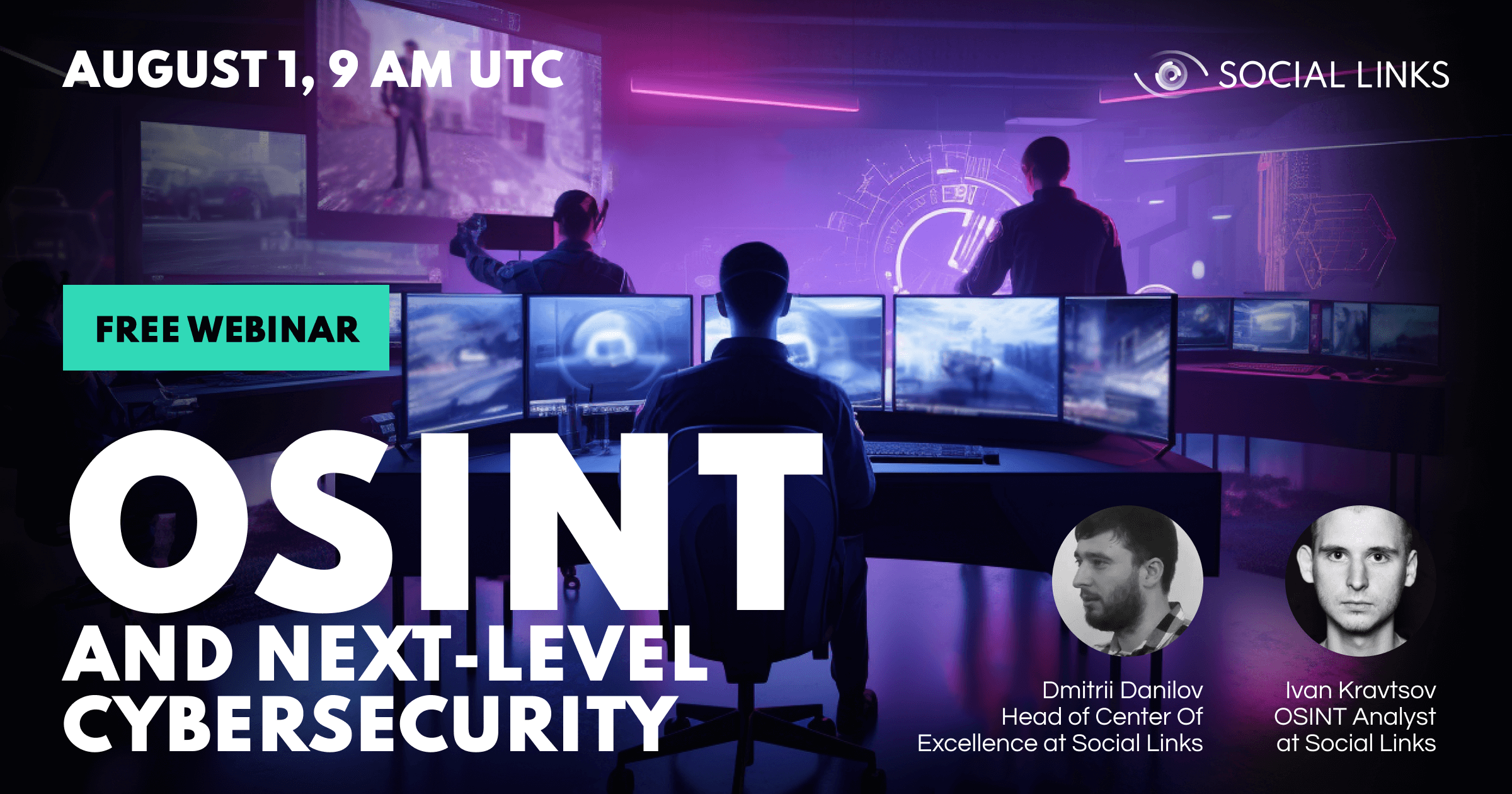 In a climate where 60% of SMBs have been targeted by cyberattacks, and the average global data breach costs a staggering $4.35M, cybersecurity has never been a more pressing issue. A huge force in strengthening an organization's cyber resilience, the importance of OSINT for the modern cybersecurity unit cannot be overlooked.
Join us on August 1, at 9 am UTC, for the free webinar OSINT and Next-Level Cybersecurity. In this event, we'll explore the crucial role of OSINT in cybersecurity and the techniques applied in key areas such as cybercrime investigations, incident response, threat intelligence, penetration testing (pen-testing), and red teaming.
Agenda
This free event will be hosted by two of our most experienced specialists, Ivan Kravtsov and Dmitrii Danilov. Via clear in-product demonstrations, Ivan will illustrate how all techniques and methods under discussion work in action. The webinar will have 7 sections:
Introduction. A discussion on the overall importance of OSINT in conducting quality cyber threat intelligence, as well as the sub-disciplines in which it makes a significant difference.
Core Capabilities and Transforms. An overview of essential data extraction and processing methods and how they can help analysts accurately detail the cyber threat landscape.
OSINT in Cybercrime Investigations. Employing OSINT techniques to boost the effectiveness of incident response teams and maximize the quality of digital forensic research.
Threat Intelligence and OSINT. Leveraging open data to produce actionable intelligence, monitor the threat landscape, and identify emerging cyber hazards.
Penetration Testing and OSINT. Utilizing automation and boosting effectiveness during the initial phases of pen-testing and red teaming.
Case Studies. Authentic cybersecurity cases showcase the significant value OSINT tools and techniques bring to the work of cybersecurity analysts.
Q&A. Your chance to ask our specialist any questions about SL Professional or OSINT in general.
Note: the event is absolutely free. And what's more, we'll send you a recording soon after the webinar.