Social Links at ISS World Prague, 2023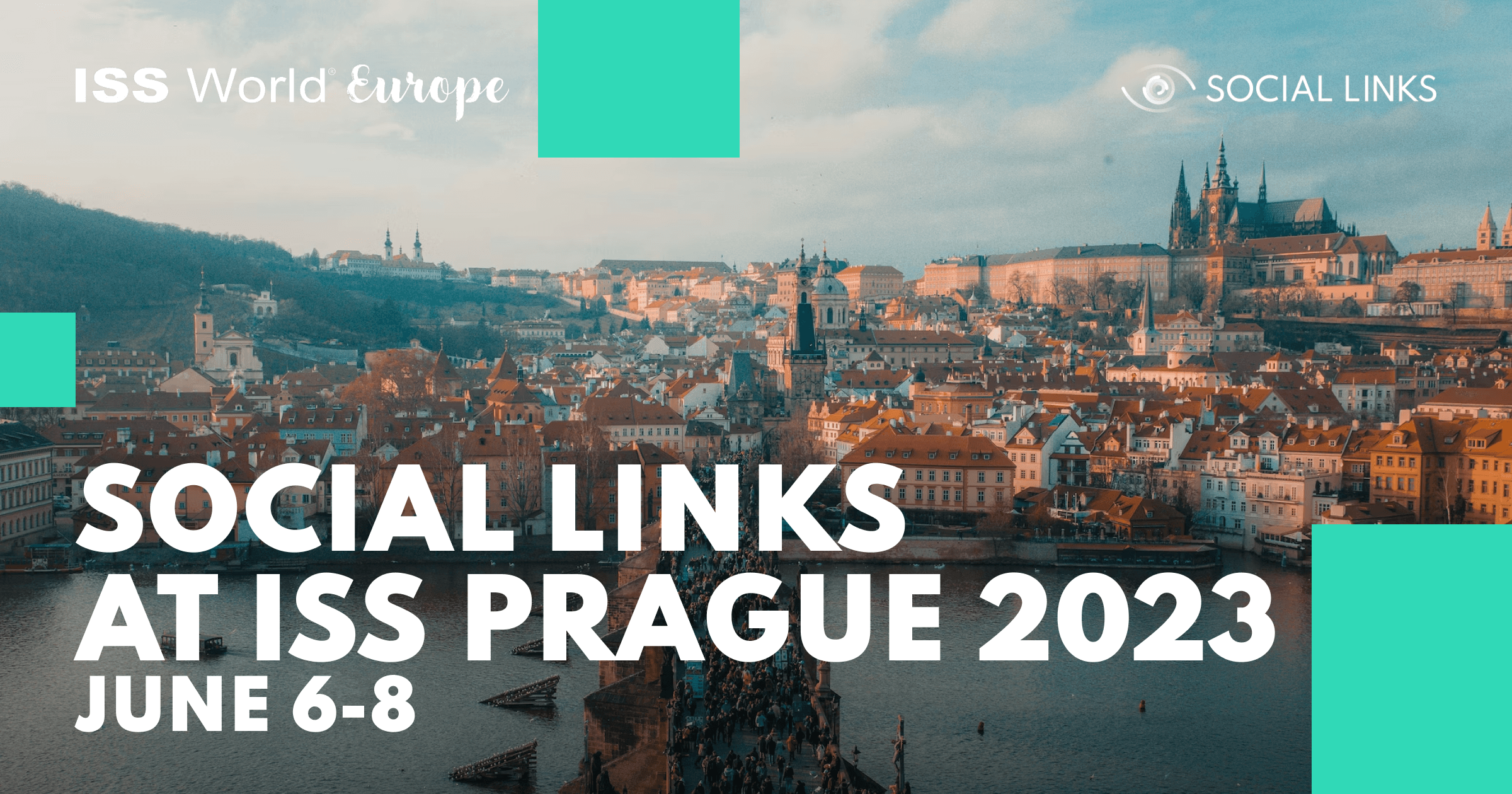 The next ISS World Europe conference is just around the corner, and, once again, we're super happy to participate! It would be great to see you all at this superb event, which will be held June 6–8, 2023, at the Clarion Congress Hotel, Prague.
What We'll Be Discussing
In collaboration with the Federal Judicial Police of Belgium, Social Links is contributing to the official program with two presentations. Each of these will cover an OSINT case conducted by our client.

OSINT Case Study: How the Analysis of TikTok Led to the Identification of a Fugitive Criminal
Track 4, Tuesday, June 6, 15:25–16:05
This talk will have two parts. The first will focus on a real case where a suspect disappeared. We'll demonstrate how investigators used SL Professional to carefully analyze media from TikTok, leading to the fugitive's identification. Following this, part two will cover how the OSINT solution can process a whole range of open-source media to boost investigations.
Speakers: Christof De Windt, OSINT Specialist at the Federal Judicial Police of Belgium; and Dmitry Danilov, Head of the Expertise Centre at Social Links.

OSINT Case Study: Leveraging Open Data to Make Breakthroughs in an Arms Trafficking Investigation
Track 3, Thursday, June 8, 09:15-10:00, Session B
Open data can provide the many connections required to expand cases around existing leads. In this presentation, the team will demonstrate how the Social Links' OSINT solution, SL Professional, enabled investigators to greatly enhance internal data with open sources. This led to significant breakthroughs in an arms trafficking case, where the main actors were successfully identified.    
Speakers: Christof De Windt, OSINT Specialist at the Federal Judicial Police of Belgium; and Alexandra Samuseva, Customer Success Manager at Social Links.
How to Find Us
We'll have a stall set up at booth #48 for the entire duration of the conference, with representatives at hand all hours of the day. If you would like to discuss our products, a potential collaboration, or just fancy a chat, don't hesitate to drop by!
And… a Bonus!
As long-term supporters and contributors to ISS World, we have been allocated a quota of guest passes that we can offer to our partners and clients. If you have a working relationship with Social Links and would like to attend this great event, by all means, get in touch. Simply send an email to hello@sociallinks.io and we'll do our best to provide you with a free pass!
See you there!