Social Links delivers Gamayun: a web-based product for open-source investigations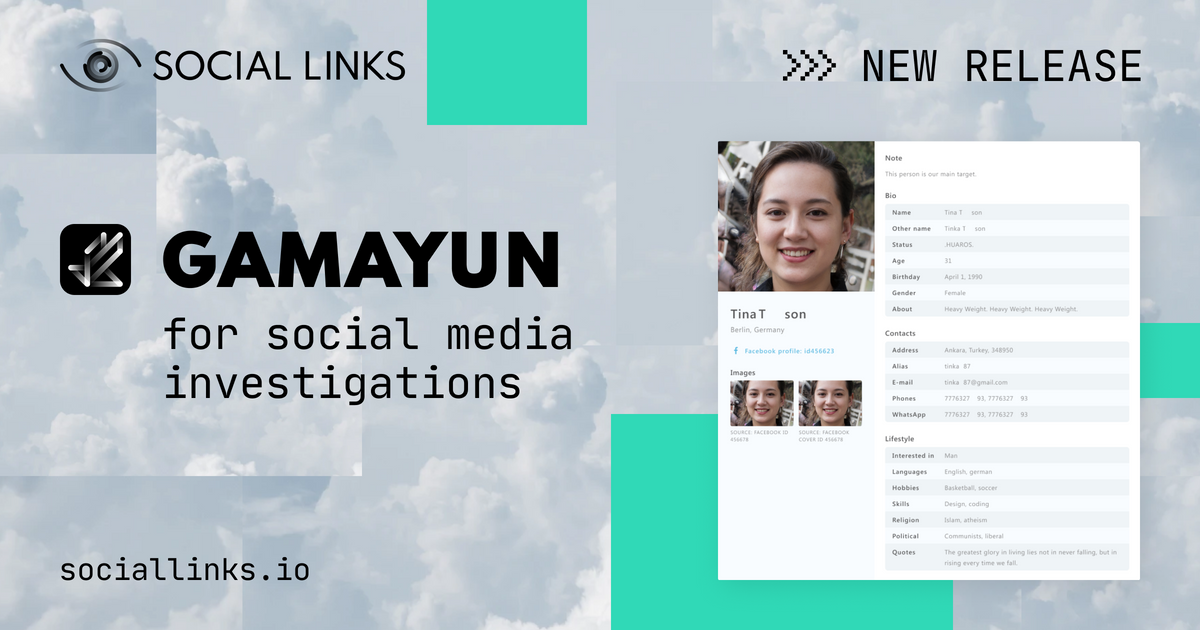 Today marks the launch of the full commercial version of Social Links' Gamayun: a web-based solution for conducting open-source investigations. Extract specific information from social networks, analyze connections between people, and generate instant reports on all work.
The Gamayun product development background
Today marks the launch of the full commercial version of Social Links' Gamayun: our web-based solution for conducting open-source investigations. Initial development on this product began back in 2019, and now, having successfully concluded the test period for the beta version in May 2021, the fully-fledged commercial iteration is ready to be rolled out.
What was Gamayun developed for?
As a leading developer of products for open-source investigation, we have long felt a desire, and even obligation to create an all-new solution which is suitable not just for OSINT professionals, but also novice users and independent investigators, for whom the use of OSINT technologies and tools needs to be simple, accessible and understandable.
Gamayun has been painstakingly designed to meet these requirements: featuring advanced data extraction technologies which deliver the most dynamic methods for conducting open-source investigations, including investigation in the social media, visualize data on maps and timelines, analyze connections between people and generate instant reports on the work done, which together streamlines social media investigations and OSINT activities.
Additionally, Gamuyun's web-based format means the user can jump straight to the practical uses of the solution, there is practically no set-up process or irksome installation, no special certificates of professional OSINT skills are necessary: the user can simply access the online platform and begin an investigation from any minimal set of input data such as name, location, username (alias) or email.
Gamayun key features
Gamayun's central features include the ability to extract specific information from social networks, visualize data and results on maps and timelines, analyze connections between people, and generate instant reports on all completed work, which provides useful investigative documentation, and traceable summaries of the user's OSINT activities. The whole package is specifically optimized to simplify investigations, run quick analyses, gain relevant reports, and deliver a user experience of maximum convenience and effectiveness.
FIND INDIVIDUALS BY NAME, EMAIL, OR OTHER PARAMETERS
The solution enables the user to find individuals a variety of minimal input data including email, location, phone number, alias, and photo among others. The system merely requires detail entries such as personal contacts or even just a name, to obtain lists of relevant social network profiles.
SEARCH BY FACIAL RECOGNITION
Gamayun also supports searches based solely on facial recognition, requiring just a photo upload of the person in question to identify and unearth all connected profiles via an array of tailored algorithms. Photo galleries can also be incorporated into the search to speed up the process.
ADVANCED ANALYSIS OF SOCIAL CONNECTIONS
Other features include the advanced analysis of social connections, communication patterns, topics under discussion, and mutual activities. This allows the user to trace all people connected with the subject, as well as the nature of engagement between the individuals.
MANAGE INVESTIGATIONS WITH EASE
The software is optimized to streamline investigations and facilitate the review process by promptly generating reports corresponding to previous results. Other functions include options to save investigation queries, tag investigations, view case cards for quick navigation, and much more.
Platform product capabilities
PERSON IDENTIFICATION
Face recognition, searching by name, alias, location, email, and number
BACKGROUND CHECK
Extended user details from Facebook, LinkedIn, Twitter, and Instagram
EXPLORE CONNECTIONS
History of the all person connections based on his activities on social networks
CASE REPORT
Results of all your investigation you can export in a small PDF document
Target audience
One of the central advantages of Gamayun is a simple and intuitive design that will deliver the maximum convenience and effectiveness to using the bunch of OSINT tools available to industry professionals and OSINT beginners.
The areas of implementation
The Gamayun online platform will have great utility and impact in areas such as human resources, corporate security, law enforcement, media and journalism, insurance, independent private investigations, and other fields which require verification and information extraction from open data. The product's modern and intuitive web interface not only allows the user to work faster more effectively but also makes the product more universal, as it requires no special certificates or professional OSINT skills, representing a fulfillment of our mission with Gamayun: to make a sphere which is usually considered the exclusive domain of professionals, available for all.
The product pipeline
Using open data from social networks to complete investigations and create reports represents the central functionality of the solution. However, the product is continually being updated and improved, with the addition of new features on which will keep all of our users updated. Coming soon: search by geolocation and visualize data by timeline.
ANALYZE ACTIVITIES BY GEO
The solution also provides the possibility of conducting geo-based analysis, with search results being traced according to the subject's location. The analysis allows users to view results on the map with details on the individual entities.
EXPLORE THE TIMELINE OF EVENTS
Event timelines can also be explored and mapped, as the software can track the subject's activity as it unfolds on the map, encompassing the nature and frequency of occurrences. Additional options provide analysis of the subject's posts and comments, as well as comparison among the activities of different targets.
The future development of Gamayun
Our global trajectories for Gamayun's development over the coming years are: collaboration options for case studies, new data sources such as company data, product inclusion in the SL BOX, and the development of analytical modules including grading systems, risk models, NLP, as well as video and image analysis.
These additions will allow large companies and LEAs not only to conduct investigations on uncovered data, but also to work together on cases, combining digital forensics, collecting physical and digital evidence. Legal expertise could also be centralized, alleviating the pressure on specialized departments, while the progress and closure of cases would be open to collective monitoring via shared access. Furthermore, it will be possible to collate statistics from the level of an individual subject to entire regions and countries, providing a basis for the carrying out of strategic resource planning.
---
💡
Any questions? We'd be happy to give you a guided demonstration of our OSINT tools and show how they can transform your workflows. Simply follow the link, fill out the short contact form and we'll be in touch promptly to arrange a call.