Social Links at OSINT Conferences and Events 2023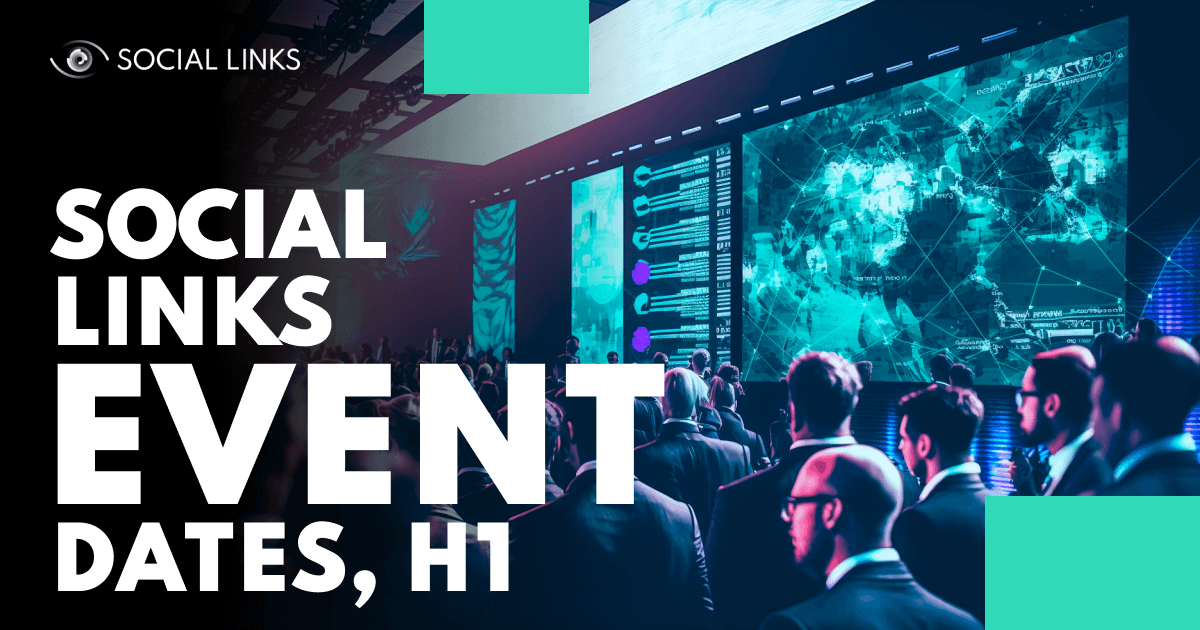 Every year, Social Links takes part in various conferences, exhibitions, and educational programs, at different locations all around the globe. We're happy to count ourselves among the global OSINT and cybersecurity communities, which are continually evolving in an open and engaging atmosphere.
These events are important to us as opportunities for sharing our knowledge and experience while also gaining inspiration from others in the sector, and making new connections and friends. 2023 is shaping up to be busy, and we just wanted to give everyone a quick heads-up on what we're looking forward to in the first half of the year.
ISS World Middle East, UAE
City: Dubai
Dates: February 28 - March 02
This is the world's largest intelligence conference, drawing professionals in Law Enforcement, Government Intelligence, Homeland Security, and Telecoms from around the globe. The programs feature some of the latest tools and techniques which are becoming essential to organizations and workflows across both public and private sectors.
ISS puts on numerous events every year to focus on different territories, and from February 28 to March 2, Social Links will be contributing to a conference for the Middle East, hosted in Dubai. As always, we'll be giving a presentation on OSINT, and will have an exhibition stall, so anyone can come and talk to us throughout the event.
Bonus: For all our valued partners and clients we have been allocated free guest passes. If you'd like to visit the event, simply message us via hello@sociallinks.io and we'll do our best to provide you with one!
The Digital Investigations Conference (DIC), Switzerland
City: Zurich
Dates: March 1-2
Organized by our partner ARINA, the DIC provides a forum for computer forensic specialists and developers working in Digital Investigations, E-Discovery, OSINT, and Mobile Forensics. The event is geared towards security companies, LEAs, governmental bodies, and military organizations.
The DIC is held annually in Zurich, and this year will take place March 1-2. The Social Links team will be attending the conference, demonstrating the various applications of our products in a vendor session.
Digipol 2023, India
City: Hyderabad
Dates: March 6-7
This year, Digipol is hosting their global expo for Law Enforcement and National Security in Hyderabad, March 6-7. The event is a huge gathering of specialists, officials, and vendors connected to these sectors. Our specialists will be giving the attendees an up-close look on harnessing the power of OSINT to combat illicit activities on the darkweb.
FIC Europe 2023, France
City: Lille
Dates: April 5-7
The International Cybersecurity Forum (FIC) is Europe's leading forum for digital security, connecting government, security, and law enforcement agencies with top providers from the cybersecurity industry. With a dedicated OSINT discussion panel, the environment will serve as an excellent platform for us to demonstrate the value that SL products bring to the cybersecurity world.
IT-Forensic Roadshow 2023, India
Cities: New Delhi, Mumbai, Bangalore, Hyderabad, Kolkata
Dates: April 17-21
Organized by our partners, mh Service, the IT-Forensic Roadshow is always a remarkable occasion. Focused on digital forensics, the event brings together the very latest tech from the sector, drawing prominent specialists from around the globe, and showcasing a world-class digital forensics laboratory.
We will be contributing to the event between April 17 and April 21, when the Roadshow visits India. Stay tuned for more information on what we have in store for our presentation.
5th International Symposium on Security, Brazil
City: Brasilia
Dates: May 31-June 1
Organized by our partner, TechBiz Group, the 5th edition of the International Symposium on Security aims to bring together global authorities and specialists to curate a debate on intelligence, innovation, and technology. Primarily geared towards security and intelligence specialists, the event will center around eight thematic discussions, with panels comprising foremost specialists from a range of national security bodies.
The Social Links team will be giving a presentation where we take a detailed look at real-world use cases for OSINT. This will serve as an invaluable opportunity for everyone present to try out our flagship product, SL Professional.
ISS EU, Czech Republic
City: Prague
Dates: June 6-8
Following on from its Middle Eastern counterpart, we're happy to be invited to the European chapter of the ISS in the Summer. The event serves as the hub for all experts operating within the region, and our team will be delivering two presentations brimming with OSINT know-how. We will also be available throughout the conference to answer any questions you may have. Stay tuned for more information.
Bonus: For all our valued clients and partners we have been allocated free guest passes. If you'd like to visit the event, simply message us via hello@sociallinks.io. and we'll do our best to provide you with one!
---
So, that covers our event schedule for the first half of 2023 – for now! Further dates may well be added, which we'll keep you posted on. We're looking forward to seeing everyone and will be glad to chat about OSINT and more.