[Webinar]Take Investigations to the Next Level with OSINT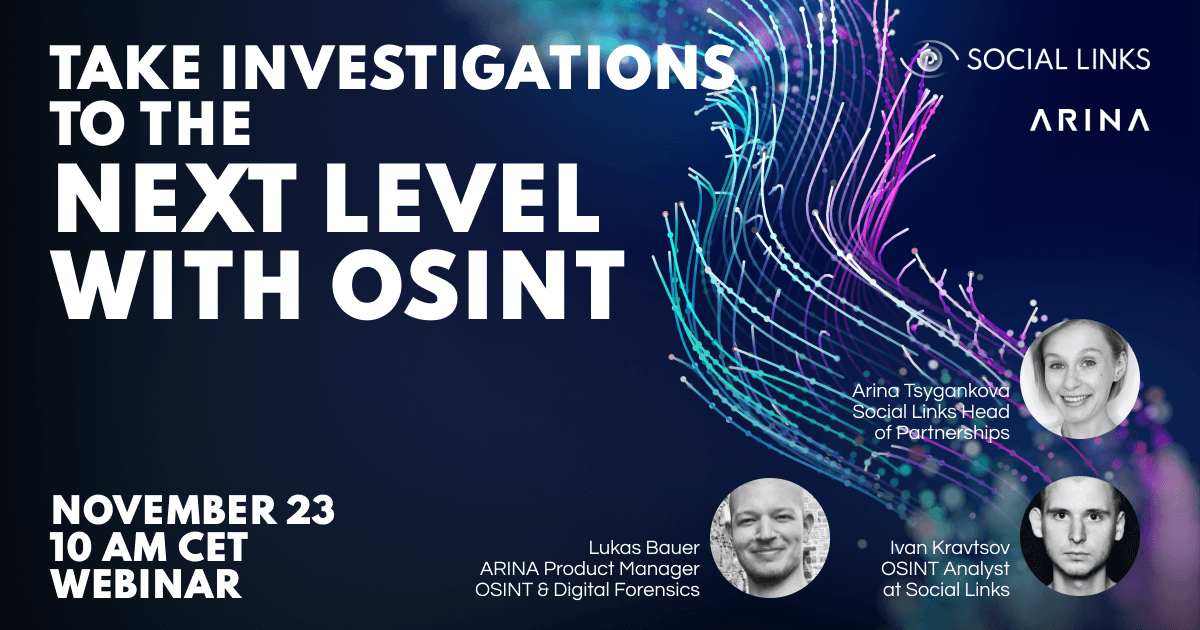 OSINT is fast becoming a fundamental aspect of modern investigative work. Digital forensics, footprinting, and reconnaissance are now central to most criminal cases, where open data is often crucial for verifying information, collecting evidence, and finding new leads. However, such demanding work calls for effective tools and techniques.
Join us on Wednesday, November 23, at 10 a.m. CET for the webinar Take Investigations to the Next Level with OSINT. In association with our partner ARINA, we will be taking an in-depth look at the multiple ways in which OSINT tools and techniques continue to transform the sphere of criminal investigation, for both LEAs and private analysts.
WEBINAR AGENDA
The event will be hosted by Ivan Kravstov, OSINT specialist, and Arina Tsygankova, Head of Partnerships, from Social Links, including a discussion with Lukas Bauer, Product Manager of OSINT & Digital Forensics, from ARINA. Organized in three parts, the webinar will cover essential techniques for harnessing open data using two leading OSINT tools: Maltego and SL Professional.
Part 1. An Introduction to the Maltego Interface. Maltego is the leading software for data visualization. We will demonstrate how to navigate the UI and carry out essential operations: how to add data points (entities) to the graph, where to find search methods (transforms), and how to use both.
Part 2. Digital Footprinting and Link Analysis. In a step-by-step demonstration, we will show how to elaborate a detailed digital footprint from a single piece of input data. This will include how to map a subject's digital environment from social media and other sources, but also how to delve deeply into a given area such as a Facebook profile.

Part 3. Case Study: Deanonymizing a Darknet Drug Dealer. Proceeding to more advanced techniques, we will walk attendees through a genuine case to completion. We will show how, from just an alias, analysts managed to expose the subject's darknet activities, and link accounts to social media profiles, thereby unmasking the dealer.