Fortnightly feature updates coming soon to SL Pro for IBM i2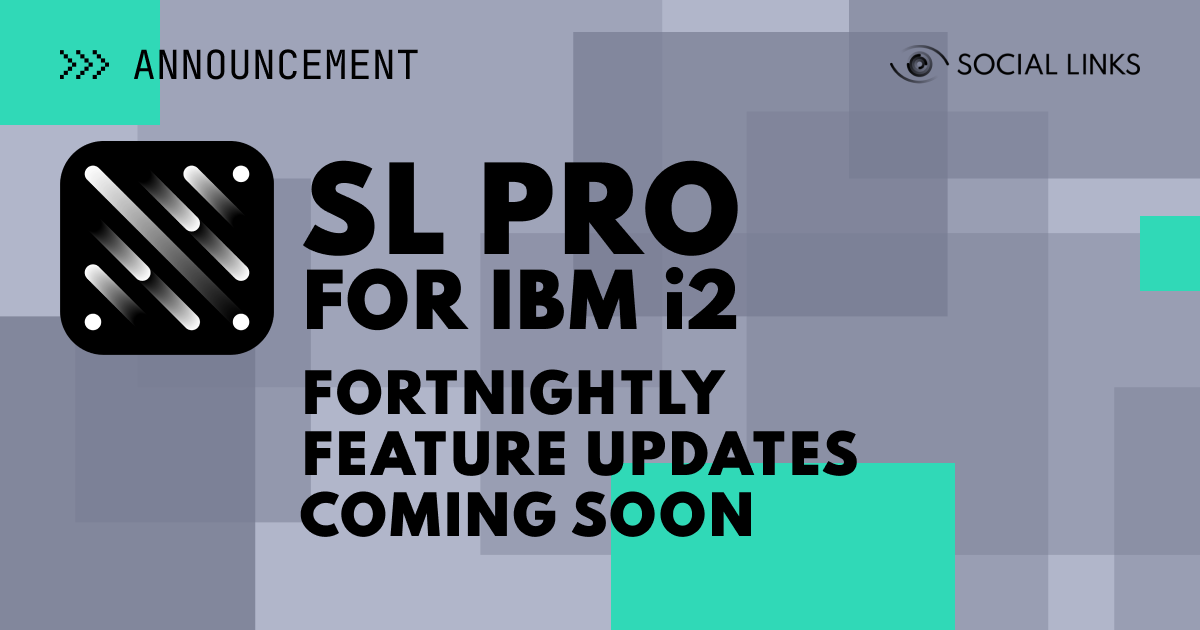 Improved functionality including totally new features to be released biweekly accompanied by published company guide materials
IBM i2's First External OSINT Provider
In May this year, we launched a custom integration for our flagship product SL Pro with IBM's industry-leading cybersecurity and data analytics solution: i2 Analyst's Notebook. The integration has been developed in close coordination with IBM with a view to delivering an optimal UX to streamline a range of data gathering and analytical tasks across the OSINT application sphere including: criminal investigations, cybercrime and threat intelligence, financial fraud, incident response, corporate security, procurement, trust and safety, and compliance.
The Evolving Product
As with all of our OSINT solutions, we are constantly fine-tuning the existing functionality as well as adding entirely new features on a periodic basis, as the product evolves in response to client needs while benefiting from the manifold utilities of open-source data.  In fact, the product is developing at such a rate that we will be bringing in new features every fortnight, and want to mark these biweekly events with accompanying blog posts detailing the updates and how they can be applied.
What's Done and What's to Come
To date we have developed an expansive range of searches for Facebook, Twitter, Instagram, and VK. Additionally, we provide a more basic functionality for LinkedIn, Tiktok, OK, and Telegram, with new searches continually being added.
In the near future we are going to bring in some important updates including advanced searches for major social networks and a further expansion of our resource repertoire, branching into Snapchat, Foursquare, and Tinder.
In combination with the technological and informational scope that has grown throughout the product's five-year evolution, we have also been elaborating and tweaking our methodologies to compliment the software so users get the very most out of the solution.
Stay Up-to-Date and on Top of the Game
Staying cognizant of these blog posts will have a number of benefits for SL Pro i2 customers. Not only will you be able to use the widest functionality of the product and stay at the forefront of the game, you will also be continually aware of the latest developments at Social Links and the OSINT industry at large.
💡
Any questions? We'd be happy to give you a guided demonstration of our OSINT tools and show how they can transform your workflows. Simply follow the link, fill out the short contact form and we'll be in touch promptly to arrange a call.