SL Pro on IBM i2 Analyst's Notebook: product launch and practical application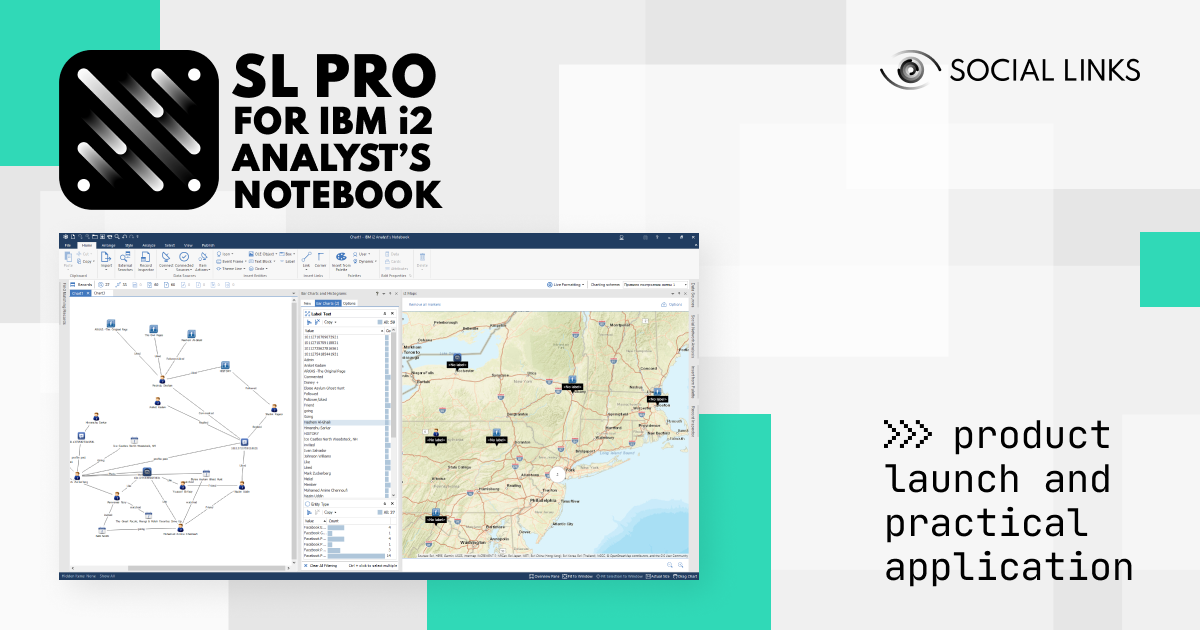 We are soon to be launching our SL Pro integration for the popular IBM i2 Analyst's Notebook platform, with the solution becoming available to IBM customers on May 27, 2021. In our previous article "Social Links brings the OSINT solution to IBM's i2 Analyst's Notebook platform", we outlined an overview of the product and its integration. This article, however, is aimed at discussing the practical application of SL Pro within the IBM i2 platform.
To coincide with the launch on May 27, Social Links, together with an IBM representative, will hold a live webinar to demonstrate the broader functionalities of IBM i2 Analyst's Notebook, the capabilities of SL Pro, and how the solution operates within the platform, as well as guiding the audience through an authentic open-source investigation with the OSINT specialist Jorn Weber. Register for the webinar and take the opportunity to discover the many powerful features of IBM i2 platform, as well as the incisive and intuitive functionality of Social Links' SL Pro in working with open data.
What is the IBM i2 Analyst's Notebook?
The i2 Analyst's Notebook is a software solution developed by IBM as an analytical tool for cybersecurity, and is a global market leader in the investigation industry. The platform provides analysts with the visual tools necessary for identifying relationships, trends, and patterns in the data being examined. The product boasts powerful technical features, which allow the user to scrutinize vast amounts of unstructured data, and be guided in their decision-making and investigative processes. Initially announced in April this year, the Social Links integration will enable IBM i2 users not only to visualize and analyze their own data, but also a plethora of relevant open-source information from within the platform itself, all of which is made possible by the data extraction and analysis capabilities of SL Pro.
Due to the profuse growth of open-source data in the world, such information has become an ever more valuable and necessary resource – not only for law enforcement agencies but other governmental services and bodies as well – in preventing criminal activities such as fraud and terrorism. Investigations that utilise open-source data experience an increased quality and speed of work, helping not only to uncover, but also to predict and prevent various forms of threat.
The SL Pro solution brings its array of tried-and-tested tools and technologies to IBM i2, opening a range of possibilities for open data research including social networks, open personal data, DarkNet, and DarkWeb, while working from minimal input data of various kinds such as name, alias, phone, geolocation, company, and many others.
What operations does SL Pro enable you to run on IBM i2 Analyst's Notebook?
Using SL Pro on IBM i2 Analyst's Notebook will streamline the performance of various tasks in the following areas: criminal investigations, cybercrime and threat intelligence, financial fraud, incident response, corporate security, procurement, trust and safety, and compliance. By using SL Pro, investigators, analysts, detectives, and risk managers will be able to effectively analyse and interpret connections in social networks.
For instance, the user can establish where a subject's likes intersect with those of others, identify relationships in social networks by various criteria, conduct and analyze a background check for an individual, and find out the geolocation history of someone. In having such a selection of features at their disposal, users can quickly and efficiently carry out investigative work, unfettered by informational gaps, to successfully bring their investigations to conclusion.
In what areas can the tools of SL Pro for IBM i2 Analyst's Notebook be used?
The way in which the user applies the SL Pro solution on this platform depends, of course, on the investigative objectives, with each area affording a wide range of applications. In the field of criminal investigation cases can identify arms trafficking, gang and terrorist activity, human and wildlife trafficking; fraud can be tackled with a focus on the analysis of cryptocurrencies and financial data leaks. Meanwhile, the field of cybercrime can be approached with penetration testing for external threats to corporate systems, risk management analysis, as well as the monitoring of threats to the corporate perimeter; and the corporate security sector can utilise investigations around intellectual property, vetting of candidates for job positions, and reputation management.
Using established technologies along with innovative solutions that have emerged in response to the real challenges of open-source investigation, SL Pro for IBM i2 can help companies, banks, insurance corporations, law enforcement agencies, and other governmental bodies, successfully manage a wide range of investigative tasks, making informed decisions based of the vast array of open-source information which becomes accessible through this powerful software.
💡
Interested in finding out how Social Links OSINT tools can help secure your personal or business online security? Fill out our short contact form and we'll be delighted to give you a free product demonstration.